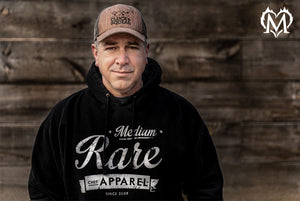 The Story Behind Cluck & Squeal®
Cluck & Squeal founder & Fire Cook Marc Cardinali

CLUCK & SQUEAL WAS AN INSTANT WORD-OF-MOUTH SUCCESS, AS FAMILIES ENTHUSIASTICALLY RECOMMENDED THE DRY SEASONINGS TO OTHER FAMILIES. ON THE STRENGTH OF THAT LOYALTY AND EXCITEMENT, THE BRAND QUICKLY MADE ITS WAY AROUND THE WORLD.
Founder Marc Cardinali has received praise from top restaurateurs, celebrity chefs, outdoorsmen, and pit-masters from the American south.Marc has toured his award winning products at competitions and demonstrations in Canada and the USA.  International momentum created demand from barbecue teams located in Italy, Australia and France.  He's been featured in BBQ Times (a popular American BBQ Magazine), and has appeared on the #1 rated outdoor sportsmen show based in the barbecue state of Texas. Marc's seasonings were developed with care and craft, and his dedication managing a fire, discussing cooking theory, teaching and assuring his audience that Cluck & Squeal is a simple way to bring a meal to life.
Nurturing the Palate
We all have powerful memories of being cooked for by our parents and grandparents. As we get older, we recognize cooking as an act of love, and we come to appreciate how flavour is a memory that runs deep.For Marc Cardinali, food and family have always been inseparable. His Italian grandmother sang her recipes while she cooked, and now Marc reminisces about this when he prepares a meal. All the herbs and vegetables the family needed came from the backyard garden Marc's grandfather tended with expertise. Marc walked the garden as a toddler. His grandparents thought they were babysitting, but they were teaching the boy about vines and the earth and the root of flavour.Marc's mother put a creative spin on her cooking, and his father raised livestock, two more sources of Marc's knowledge and understanding of what good truly tastes like. Marc learned quickly that enjoyable, memorable meals spring from wholesome ingredients and respectfully grown food. Cluck & Squeal is a product born of these simple lessons.
A Bottle of Memories
Simplicity does not mean easily achieved. As a teenager, Marc worked at a bakery and made pizza by wood-fire. Cooking by fire became a personal passion, and a long apprenticeship, and over the years he developed the full range of barbecue expertise. "You have to learn the fire," he says. "And as you learn it, the fire whispers your name."
The Cluck & Squeal MONTBAMAWICH!
This sandwich combines the rich flavours of Cluck & Squeal Montreal Seasoning and BBQ Rub made with Himalayan salt. This sandwich starts with organic chicken thigh, generously coated with Cluck & Squeal Montreal. As the seasoning permeates the meat, it infuses each bite with that famous Cluck & Squeal flavour.
Read more
Cluck & Squeal Montreal Style Smoked Chicken Wings
Cluck & Squeal Montreal Seasoning & BBQ Rub made with Himalayan Salt  is a versatile spice blend that combines our new school flavours of Montreal seasoning with the unique touch of Himalayan salt. This fusion creates a delicious and savoury seasoning that can elevate the taste of a wide range of dishes and meats.
Read more